Accurate Powder Nitro 100 12oz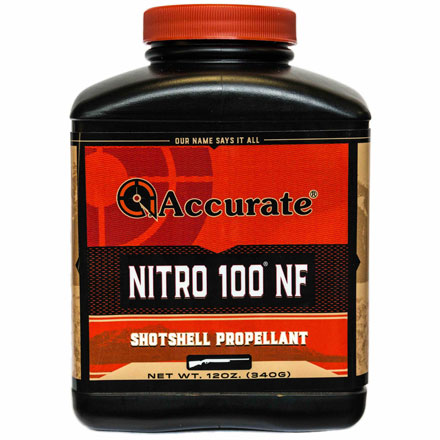 Accurate Nitro 100
Accurate Powders is a company that definitely lives up to its name. The complete line of smokeless powders for handguns, rifles, and shotguns is engineered and lab-tested to maximize the precision and performance. Accurate uses the best ballistic technicians and the highest quality components together to assure that every gun is better served with Accurate Powders
Accurate Nitro 100 is a fast burning, flattened spherical, double-base shotshell powder that is a clean burning, cost-effective choice for all 12 gauge target applications.
NOTE: The reformulated Nitro 100 has been optimized to improve flow and ignition characteristics. Always use the most current load data.
accurate nitro 100 #12 oz.
WARNING:This product can expose you to chemicals which are known by the state of California to cause cancer and birth defects or other reproductive harm.